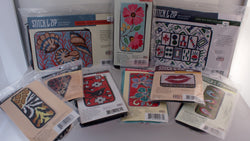 Jackie O's | A Modern Day Stitchery
"Stitch and Zips"
We offer an assorted collection of self finishing "Stitch and Zips." We have eyeglass cases, small and large cosmetic bags, and scissors cases. These are great canvases for beginners or travel projects. 
We are currently only offering these in-store, but feel free to contact us if you are interested in having us ship!